Staying in Touch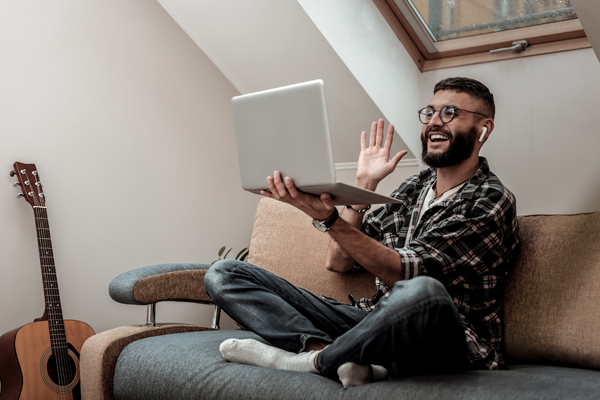 Some words of wisdom from our own computer wizard.
Staying in touch with friends, relatives and colleagues during this period of social isolation can initially seem a challenge, but this is where technology can really come to the rescue.
Anything requiring new equipment is likely to have the problem of 'they're all sold out' as there was a rush to buy this stuff when lockdown began.
The question at the top of everyone's list is video conferencing and the second is remote assistance to keep everything working.
Video conferencing/calling
Skype – (www.skype.com)
Skype is a well trusted product which has been around for some time. It is primarily used for video or voice calls between all device types, with a current maximum of 25 participants but no time limit. It also allows sharing of documents and whiteboards for meetings.
Available on PC's, Macs, iPhone and Android phones.
This is already built into your Windows 10 PC and can be downloaded from the relevant App store for other devices. It implements end-to-end security.
Zoom – (www.zoom.us)
Zoom is relatively new and allows groups of up to 100 have conferences/meetings with a time limit of 40 minutes with the host being able to determine who is participating.
Available on PC's, Macs, iPhone and Android phones.
WhatsApp – (www.whatsapp.com) this can be downloaded from the relevant App Store.
WhatsApp is one of the leading text, voice and video applications. It is a free service allowing users to message one another seamlessly between mobile devices. It also allows voice and video calls between mobiles.
WhatsApp is known for its enhanced privacy features, such as end-to-end encryption, and its free web-based international calling.
Available on iPhone and Android.
Facetime
Facetime is video calling which enables you to see who you are speaking to while you are talking.
Only available on Apple iPhones and iPads and is built in.
Portal
Facebook Portal is a new product from Facebook which requires the purchase of Portal devices. These come in two basic forms, one which is attached to your tv, which it uses for the display (£149) and the second which is a standalone device containing the screen and camera (£79-£269).
Alexa
Amazon's Alexa devices have the ability to 'drop-in' on other Alexa devices. Depending on the device this can be audio or audio and video (Echo – audio only, Echo Spot and Echo Show – audio and video). This helps to check on those closest to you. To activate this feature you just need to allow 'Communication' in the Alexa App.
Google Home
Google's Home Smart speakers also have the ability to 'drop-in' on each other.
As the Portal, Alexa and Goole Home products are respectively produced by Facebook, Amazon and Google you may wonder what information they're collecting.
Remote Assistance
Do not use these services with strangers. Only with people you trust.
Teamviewer – (www.teamviewer.com)
Teamviewer is a way to remotely manage your computer, handy if you are having computer problems. If you already have computer technician this maybe an idea or if you have someone in your own family who is good with computers this could be a help.
GoToMyPC – (get.gotomypc.com)
GoToMyPC can be setup on your Work PC and provides a way to access the machine when you are elsewhere (working from home!).
App Stores
Apple App Store – iPhone/iPad
Google Play Store – Android tablets and smartphone