Creative Home Gardening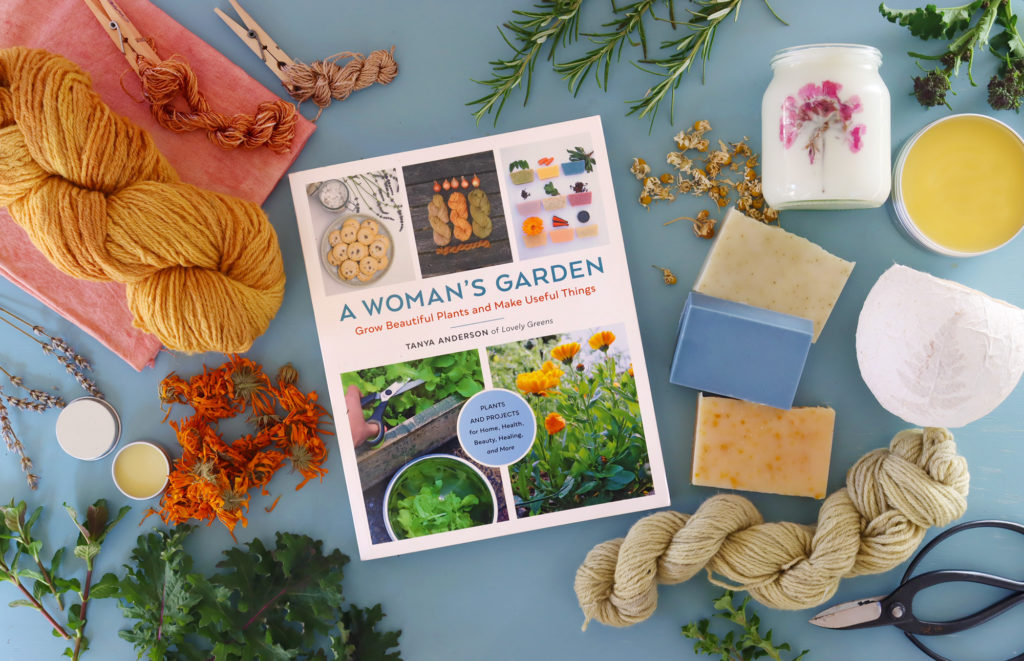 While looking for Lockdown ideas we turned to Tanya Anderson, gardener and creator of https://lovelygreens.com. Hurray! She has loads of good suggestions and kindly sent us her gardening tips especially for the Isle of Man. This supper talented lady has just finished her latest book, full of inspiration.
This St Patrick's Day why not celebrate with potatoes! Your own, home grown potatoes.
Manx Gardening Tips for March by Tanya Anderson
March on the Isle of Man is probably the most exciting time of the year for gardeners. It's the beginning of spring, and our growing spaces finally feel like they're coming back to life. If you've planned ahead, spring cabbage and purple sprouting broccoli are coming into their own in the veg patch. I've also been picking the first green shoots of perennial onions such as chives, garlic chives, and welsh onions. For those who love flowers, daffodils, primrose, and other hardy spring blossoms are in full bloom. The first flirting of cherry blossom and the thick green leaves of tulips are beginning to show, too. It means that warmer and less windy days are ahead and that we need to get to work.
However, we're back in lockdown again, which means getting what we need to garden can be challenging. These are my five tips for Manx gardeners to get ahead with spring tasks with the help of both local and online resources.
Where to get Garden Supplies on the Isle of Man
While some garden centres are shut, others currently offer online or phone orders. Ramsey Garden Centre, Alexanders Nurseries, Rileys Garden Centre, and Watson's Nurseries all offer their standard inventory and the option of delivery or scheduling time-slots for pick-up. While Kirby Park Garden Centre is closed, they're offering online and phone orders of gift vouchers and cards to be posted directly to the recipient. Feltons in Ramsey is also offering delivery and collection services and has a decent range of seeds, bulbs, gardening material, and DIY supplies.
Order and Plant First Early Potatoes
Anytime from St Patrick's Day to Good Friday is the traditional time to plant first early potatoes. These varieties take 8-10 weeks to crop and are a great way to grow tender young spuds without the fear of potato blight taking your crop. If you've not got your seed potatoes chitting already, you should be on the look for them now. While you can get them from local garden centres, they may be in short supply. The range of potato varieties is limited on the Island too.
Seed companies online are your next bet, and many will ship to the Isle of Man. The well-known brands are places you might head to first, but also consider smaller online nurseries. Those in the UK will likely ship to the Isle of Man, but nurseries in Northern Ireland and Ireland may not offer shipping to the Island post-Brexit. My favourite place to get seed potatoes, Patch Seed Potatoes, no longer ships here.
Once you have your seed potatoes, you can cut them in half to increase the number of plants you can grow. My grandmother would throw them into the soil immediately after cutting her potatoes, but it's better to let the cut form a scab before planting them. Especially this early in the year when the soil isn't that warm.
Mulch Garden Beds with Seaweed
If you've not mulched your garden beds in autumn, you should do it now. Mulching means laying down a thin layer of garden compost, mushroom compost, or seaweed on the soil's surface. It stops weeds from growing but can also feed the soil underneath too. Mulching is also crucial in supporting the micro-organisms that live in the soil, including fungi. These unseen organisms help our crops and garden plants to grow. If we protect the soil and feed them, then our harvests will be even more bountiful. On your next day's exercise out, take a bucket and collect seaweed from the beach. It's legal to do so, and you can spread the seaweed unwashed on your soil as a mulch. The tiny amount of salt in it doesn't harm plants or the soil, and some claim that it has the added benefit of keeping slugs at bay.
New Gardening Book
I'd like to introduce you to my new book, A Woman's Garden Grow Beautiful Plants and Make Useful Things https://lovelygreens.com/a-womans-garden-grow-beautiful-plants-and-make-useful-things/. Due to Covid, I've had to postpone book signings and the launch at Manx National Heritage, but it is available to order through MNH, the Bridge Bookshop, and myself. The release date is mid-April, but I have a limited supply of signed books sitting at my feet that are available to purchase now.
My book focuses on eight categories of useful plants, including those for herbal medicine, natural dyeing, and interesting edible purposes. I've also noticed that women are growing gardens focused on these plants a lot more than the general gardening population. Each chapter opens with the feature of a different woman who grows useful plants in her ordinary-sized garden. It's a celebration of both plants and a unique gardening style, and I hope it will inspire gardeners from all walks of life and all size of growing space. It's also very Isle of Man-centric as the vast majority of plants introduced grow in my garden or within Manx National Heritage sites.
The Isle of Man Seed Swap
Typically, we'd have hosted our annual Seed Swap and Plant Share in Laxey already but have postponed it due to lockdown. Keep an eye out for its new date in April once we have it confirmed because it's a great way to get free seeds and plants. There's a Facebook event page https://www.facebook.com/events/889055865166860 for it that will have the most up to date news.
The way the seed swap works is that you come to the event with any seeds or plants you don't want – plants need to come from gardens free of invasive New Zealand and Australian flatworms, though. https://lovelygreens.com/new-zealand-flatworms. Then once you've put them on the table, you're free to take anything else there for free. We fund the event through a raffle, so please make sure to buy a couple of tickets to ensure we can host the event next year too.