Manx Harriers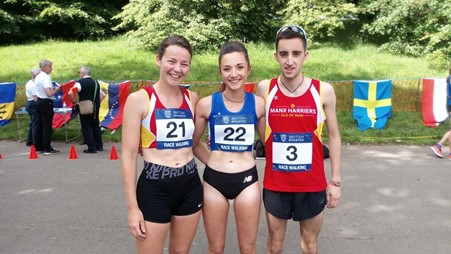 Athletics is a very diverse sport and Manx Harriers cover all aspects of it apart from Tug of War – although over the years they have organised a few such competitions at charity events. The athletes are to the fore in Track and Field, Race Walking, Road Running, Fell Running, Trail Running, and Cross Country running. Together with the many officials, coaches and administrators who work with the club and others to provide competition opportunities to athletes, fun runners and anyone interested in the sport. Their expertise extends to World Championship and Olympic events where Steve Taylor is one of the world's most experienced and respected walking judges and was the chief judge at the London Olympics in 2012. The main events they are involved in are listed below in approximate order over the year, however, the club is involved in far more than these alone –
Isle of Man Cross Country League and Championships
Murray Lambden 10km walking and running events
Easter Festival of Running
Track and Field Championships and Leagues
Parish Walk
Peel to Douglas trail race (the oldest running race on the island)
Numerous Road Championship races in Walking and Running over the year
Manx Harriers did not come into existence until 1992 with the amalgamation of the two Douglas Clubs Manx A.C. and Boundary Harriers. Manx A.C. was the descendant of the first main club on the Island which was the Isle of Man Athletics Association formed in 1947. This organisation split into different clubs in the 60s, 70s and 80s with the formation of the clubs we now know – Manx Harriers, Western AC, Northern AC, IOM Vets and IOM Fell Runners. Prior to this other clubs also existed such as Southern AC and smaller groups like Malew Beagles!
We asked Manx Harriers to talk about Athletics:
Athletics is a sport open to anyone. In our training and coaching opportunities, we offer our expert advice to club members and newcomers, and anyone of any ability is welcome. All we ask is that after a period of time seeing if they enjoy the experience, they then join the club. People seem to feel that only elite runners or athletes can join an athletics club. Nothing could be further from the truth. We do cater for the elite, but we will work with, and help, anyone who wishes to get involved in the sport. On top of that all, sessions are taken and organised by, UKA qualified coaches. The club offers over 30 training sessions in the week, aimed at all ages and events for 7-year-olds to 70, from Pole Vault to Race walking, Hammer throwing to Endurance running and even the social running group with tea and biscuits and a chat after each easy run.
The social running group meets on a Monday 6.30pm at the Manx Harriers Clubhouse by the NSC. In addition, we have numerous groups who would be welcoming of people having a go and wanting to improve and learn. The club also has a social membership scheme available for those interested but not necessarily keen on competing.
And what about Competitions?
Our members have been involved in many exciting and dramatic races over the years. A few are listed below but this is by no means an exhaustive list.
Rachael Franklin 2xtriple gold medals in the Island Games 2015/2019 also Rachael set multi Isle of Man records in 2018 and 2020.
Ollie Lockley set the IOM Marathon record and 5km record in 2020. The Marathon record had stood for 46 years.
Steve Partington and Cal Partington were both GB International race walkers and produced many fantastic performances over the years. Their son Tom is following in the family footsteps – quite literally!!!
Keith Gerard and Aarah Astin have both won medals at the English National and Inter Counties Cross Country Championships. Keith was the English XC Champion in 2012 and 2013 and British Champion in 2012. In addition, Keith represented GB many times in XC internationals, also the World XC Champs. Keith also represented GB in the European track and field champs over 10,000m. Sarah won Bronze medals in the English and British XC Champs in 2015. She and her teammates came 7th in the 2015 team champs out of over 100 teams from major cities and towns across England!
Many are unaware that Cross Country is a team sport and Manx Harriers Senior Men have won the Lancashire Team Champs on many occasions. The Senior Ladies have done similar winning the title in 8 of the last 9 years it has been contested. In 2017 they took the Bronze medal in the North of England Champs, the only medal won in a regional or National championships by a local Manx team. Over the years our race walking teams have also won medals in numerous national events.
Keith Gerrard, Steve Partington, Cal Partington, Joe Harris, Kevin Furlong and Harriet Pryke have all competed in the Commonwealth Games. There have been many more in the past, this list is not exhaustive but is just to give an idea of the large numbers of Games athletes we have produced. We hope to see a number of Manx Harriers competing in Birmingham in 2022. Our sport is going through a very good time at present with some fantastic athletes competing.
Time Enough wishes them all every success. We will be watching their progress, especially with the Parish Walk coming up on the 19th of June.
It is widely accepted that sports such as Athletics/running/walking have a great health benefit. What better way to ensure a healthy lifestyle than taking part in a fun sport and enjoying it in a friendly atmosphere with other likeminded people. The Club's website carries information about coaching and training opportunities as well as social events that anyone can join in with so why not come along and benefit from keeping fit.