Celtic Gathering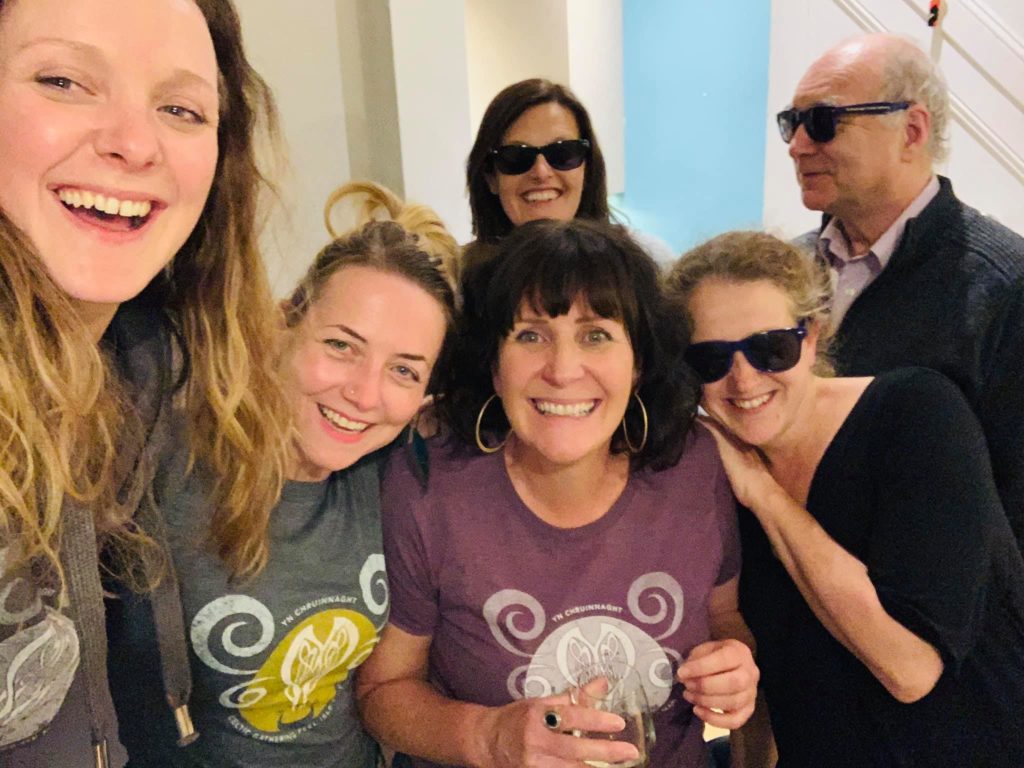 Yn Chruinnaght has been an important part of Island life for over 40 years. If you have missed it so far, now is your time to find out what it is all about. Those who attend will find awarm 'failt erriu' and will be in awe of the amazing traditional talent there is here on the Isle of Man.
Jo Callister is involved with creating this year's Yn Chruinnaght. She grew up in Ballaugh and Kirk Michael and has always been interested in the history and culture of the Island, learning names of Manx flowers with her Dad, John Dog, and regularly taking part in the Kirk Michael Oie'll Verree as a former Michael Player. She has lived here all her life.
After working as a primary school teacher for 15 years, she became Advisory Teacher for the Manx Curriculum at the Department of Education Sport and Culture (DESC) and has been in post for 9 years, supporting the delivery of the curriculum in a Manx context, including specially created Manx curriculum materials. This includes representing education on the committee of Yn Chruinnaght Celtic Gathering.
At DESC, Jo took over the running of Aundyryn Kiaull-Theay Vannin – the Manx Folk Awards (MFA) with Chloe Woolley, Manx Music Officer from Culture Vannin. These are competitions for school children in Manx music, song, dance, poetry and language. They have been running for almost 10 years and involve well over 1000 children each year. Ensuring they have the opportunity to listen to our amazing Celtic musicians live, often from other Celtic countries, and this year, all Manx.
From teaching about the Victorians in full costume at the Grove Museum to training teachers new to the Isle of Man at Legislative Buildings. Jo's job really is unique. She has provided a whole host of bespoke Manx history, heritage and cultural resources for schools and works closely with Manx National Heritage and Culture Vannin, as well as many other local organisations, to provide materials. A fluent Manx speaker she teaches regularly at Bunscoill Ghaelgagh the Island's Manx immersion school.
Jo has attended Yn Chruinnaght most of her life, both as a guest and as a performer, with Ny Fennee the Manx dance group from Ramsey, where Jo played the low whistle as part of the Ny Fennee musicians.
Proud of her heritage and upholding many Manx traditions; there's a Crosh Cuirn on her front door, you'll find Blughtyn on the doorstep for Oie Voaldyn and she'll definitely be wearing Bollan Bane on Tynwald day. Her household is Manx speaking too, as her partner Adam Horne is also a fluent Gaelic speaker. Showing others that Manx is for everyone is something Jo and Adam are passionate about and as part of yn Chruinnaght they helped run a hugely successful Oie Vingo (Bingo night) at Sunset Lakes for the opening of the recent Gaelg21 initiative.
Yn Chruinnaght would normally welcome performers from different Celtic countries such as Scotland, Ireland, Wales, Cornwall and Brittany but for the second year in a row it is an entirely Manx festival this year. Based mainly in Peel, for 2021 there is a long list of amazing performers including Christine Collister and friends, Clash Vooar, new group Tree ny Kiare and the Mollag band who are celebrating 30 years since their first album release this year. The festival runs from 19th July – 25th July 2021 and there will be some special one-off events for this year, including an exciting pop-up Lorient Pavilion on Saturday 24th July at the Cathedral grounds in Peel with crépes, music and a small stage, meaning all those locals who would normally travel to the Lorient Festival can get their Breton fix there instead!
The Saturday night fancy dress theme is back! This year the theme is 1950s as part of the celebration of 70 years of the Manx Folk Dance Society who were set up in the 1950s. Last year it was pirates to tie in with Peel's traditional boat weekend, which incidentally coincides again this year. You can support the building and sailing of the Yn Chruinnaght vessel at 3pm on Saturday July 24th as it (hopefully) steams across Peel harbour and back! Anyone who knows Jo will know her fancy dress collection is substantial and as a Callister, the inclusion of a fancy dress theme is always applauded!
Plus, there will be a Mega Manx Ceili at the Villa Marina on the evening of Saturday July 24th. This is a very special one-off event which will give our traditional dance groups something to perform, as all other Island festivals and competitions were cancelled in 2021 due to Covid. As well as musical performances – including the newly formed Manx Fiddle Orchestra – there will be a HUGE Ceili which will be brilliant! Make sure you grab your tickets fast! All other events and performers can be found on the website www.ynchruinnaght.com.
"Ta mee lane maynrey dy chur cooiney lesh y ving Yn Chruinnaght. T'ad sleih feer er leih as t'ad er ve gobbraghey feer ard son YnChruinnaght 2021. Dagh vlein, t'eh cur foays da my chree dy geaishtagh rish ooilley ny kiaull as jeeaghyn er ooilley ny daunsey. Ta shin feer aighoil dy chummal aynshoh as ta mee jeeaghyn roym lesh y feailley Yn Chruinnaght 2021 erskin towse! Hee'm shiu aynshen!"