Dancing in the Isle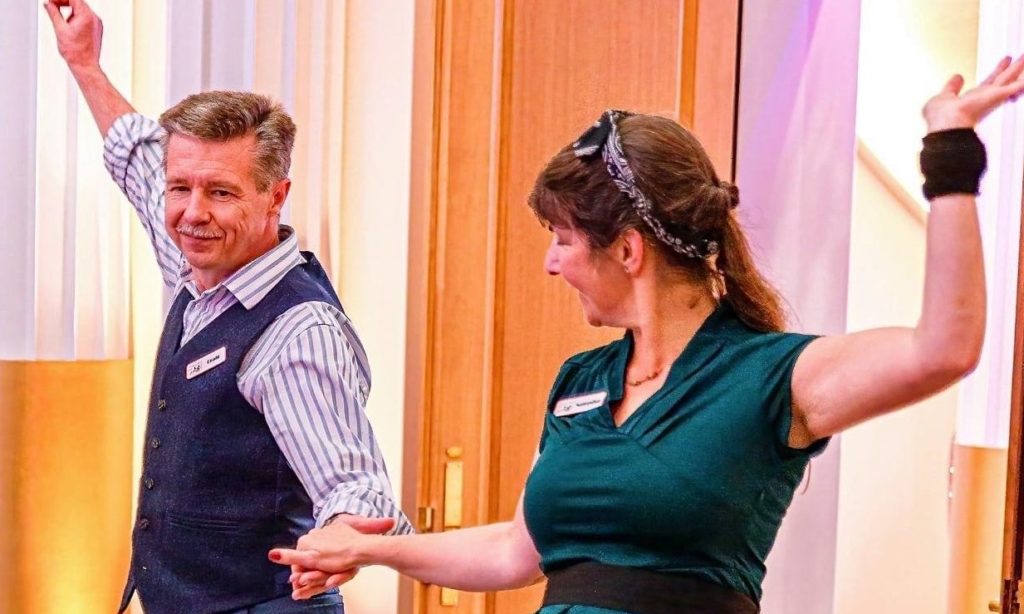 If Yn Chruinnaght inspired you to get up and dance then why not take it further and learn Swing.
Natasha Brown, is one of the teachers at http://swingintheisle.net and a former primary school headteacher. She has lived on the Island for 12 years with a passion for learning and enjoys encouraging others to try new things. She met her husband, Craig thanks to ballroom dancing and loves trying all sorts of dance styles. We spoke to her about about dance and dance classes on the Island.
"I got involved with Swing thanks to Gordon Lloyd West, who was aiming to start a Swing community on the Island, having experienced one in the UK and Ireland. He was looking for people, with an interest in dance and teaching, and my name was one of several suggested. From humble beginnings, in May 2018, and a launch workshop weekend that August, we have grown and developed into 3 classes a week and regular social events."
Swing Dance is a term used to cover a number of dances from the 1920's-1940's. The Lindy Hop is the main dance originating in the Savoy Ballroom in Harlem, New York. It was a place where black and white swing dancers could share their passion for music and dance. It gained huge popularity during the swing music era but fell away once rock and roll, (a dance derived from Swing,) became fashionable. The resurgence started in the 1980's and 90's when various people around the world wanted to know more about the swing dancing they saw in old film clips such as Hellzapoppin' (1941)
Dancing is regularly recognised by Scientific studies to be one of the best forms of exercise. It challenges both your physical and mental capacities in a fun and enjoyable way whilst encouraging social interaction with different people. In this way, both your physical and mental health benefits. It truly is a great way to make new friends and enjoy an active social life.
Swing in the Isle holds regular absolute beginner workshops on the weekend and before Covid had regular visiting teacher workshop weekends. All details can be found on their website http://swingintheisle.net and Facebook page www.facebook.com/swingintheisle. All adult ages are welcome from students to pensioners.
"We welcome people whether they come along on their own or with a partner and we challenge gender stereotypes, encouraging people to aspire to learn both lead and follow roles."
They have a strong ethos for fun and friendship so hold lots of social events throughout the year and get involved in various charitable endeavours too.
"We took part in the Armed Forces Day celebration at the Villa Marina, VE and VJ Day celebrations in Castletown and Ramsey and held a Cream Tea Fundraiser at Arragon Mooar and raised over £1000 for Teapot Trust Isle of Man."
Swing classes are held in:
St Paul's Hall, Ramsey on a Tuesday evening from 7pm,
The Manx Legion, Douglas on Wednesdays from 7pm
and Moreton Hall, Castletown on Thursdays from 7.30pm.
with Regular Friday Night Swing Nights at St Olave's Church Hall in Ramsey.