Kensington Arts and New Artists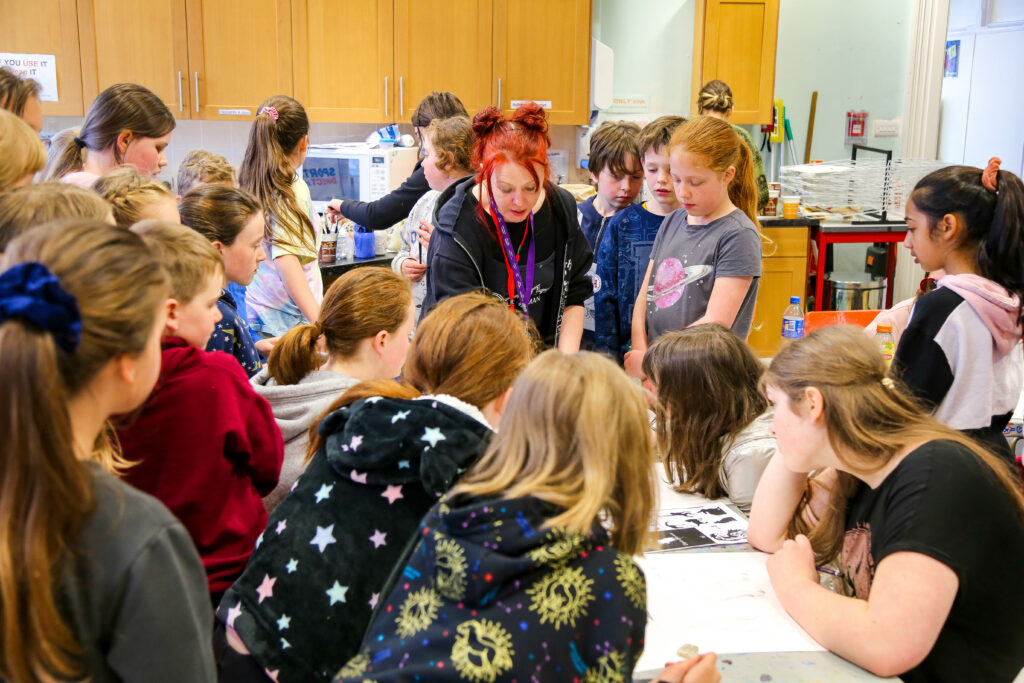 The beautiful former arts school and then youth centre, Kensington Arts now includes a 130 seat Theatre, a Dance Studio, Art Room, Band Practice Rooms and a Recording Studio. The centre runs activities designed for young people aged between 8 and 21 to support and develop creative expression, with classes after school (from 4pm) Monday-Friday each week and is almost always open for someone to pop in and have a chat about any creative project they wish to work on.
Peter Shimmin is the Creative Development Co-Ordinator at Kensington Arts. Inspired by all facets of the arts, particularly performance art such as drama and singing he has taken over the running of the former Youth Arts Centre because creating opportunities for people to explore their artistic passions brings him a great deal of joy. The centre follows the strategic direction of the Culture Division of Government, which predominately focuses on arts, culture and creativity for everyone.
Born on the Isle of Man, Peter lived here until he went to university. At Ballakermeen he was involved in many school shows, then joined Stage One, TheatriX, Taylorian and the Douglas Choral Union performing frequently at the Gaiety. Peter also had singing lessons from Rachel Wild and attended the Manx National Youth Theatre at Kensington Arts.
After completing a BA Acting course in Bournemouth, he worked as an actor in Spain and underwent a 5 month panto tour, before moving to London to further his career. He then came back to the island in 2020 having gained a wealth of experience in performing and directing, alongside marketing, customer service and logistics management.
Peter will next be seen onstage in "Elegies for Angels, Punks and Raging Queens" at the Studio Theatre, Ballakermeen on the 25th and 26th November.
Running Kensington Arts means looking after everything from the programming (what activities to offer) to the facilities (buying the toilet paper!) as well as marketing for the centre and management of the staff. Peter also assists with drama projects such as National Theatre Connections, which is led by David Dawson.
Peter is passionate about his role at Kensington Arts, and says, "Jobs in the arts are hard to come by, so when my predecessor, Fiona, retired the opportunity opened up to carve my place in the arts world on the Island. It really feels like a full circle moment, having come here as a young person, and it feels great to be giving back to the community in my own way."
"I'm constantly in awe of the young people we see coming through our ranks. The determination and drive they have is inspiring, and their self-awareness is leagues ahead of where I was at their age. Discussion and support about sexuality, gender identity and fluidity are common, and they have a great sense of their place in the modern world."
New afternoon sessions on a Monday will see a provision for creative writing and multimedia production added to the programme. Kensington Creatives focuses on all aspects of creative writing, including poetry, prose, song writing, and scriptwriting, while Wildtrack is aimed at those who have an interest in multimedia (such as film, photography and graphic design).
Naomi Longhurst, music project leader, will host two music clubs on a Wednesday evening. Varied Voices is a choir which focuses on musical diversity and covers a wide range of musical tastes and styles. Junk Jam is a percussion group where you can use household items and other unconventional instruments to create music.
Ruth Barnes and Louise Beckett will be offering new acting groups on Thursday evenings. Drop in Drama is an informal introduction to the world of acting, while Drama School Prep will help the most committed young performers build their confidence and develop audition skills to prepare for the drama school application process.
Arts Council Graduate Intern, Sophie Linham, completes the new programme with regular dance classes running on Wednesdays and Fridays. KAn You Dance offers dance education of many styles including Contemporary, Commercial, Lyrical, Jazz. Junior and Senior classes are available to allow for all ages and abilities to get involved.
The well-established, Art Tank is an after school art group which involves collaborative projects and design across all types of visual art, Tech Crew: where young people gain technical expertise in Sound, Lighting, and Stage Management and SoundCheck: a music project that promotes young musicians Island wide will continue.

The year ahead will see a new intake of Connections participants to perform in the UK next Spring, following the centre's selection for the National Theatre Festival this year
A new 'Theatre in Education' scheme is being created and will be visiting the Island's schools to perform and provide workshops around child criminal exploitation and the transition from primary to secondary school.
Peter believes that the arts are integral to the health and wellbeing of us all. Whether we realise it or not, we are surrounded by creative resources that provide colour in our lives. From the Netflix series you just finished, to the murals and sculptures you walk past on your way to work, your life is enriched by the arts and it's important that the next generation of artists are guided by the work we do, that we champion their successes and support them in their failures.
Photo by Kelly Firth
Kensington Arts
Culture Division, Department of Education Sport and Culture
Kensington Road,
Douglas, Isle of Man
IM1 3EG
Telephone:+44 1624 682312
Email: kensingtonarts@gov.im