Full Moon Festival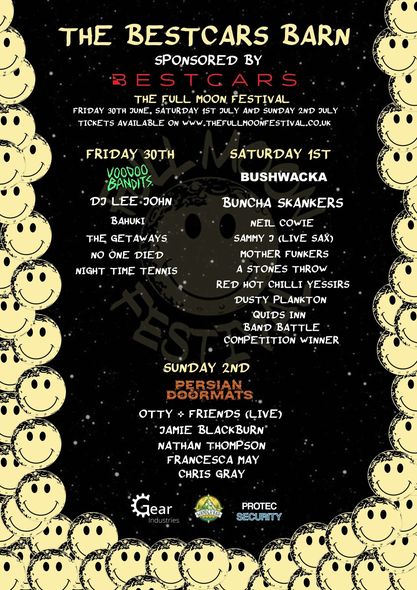 Scott Bradshaw is behind the new and exciting Full Moon Festival, bringing fantastic live music to the Island in a casual family friendly camping experience. From the 30th June to Sunday 2nd July, Rose Hill Farm will host local and international talent in this weekend of entertainment.
The main attraction is the Best Cars Barn where the bigger bands and UK artists will play. The Barn has capacity for about 1350 people, so if the weather is bad, you are still under cover. Friday's headline band will be Voodoo Bandits and Saturday's headline band is Buncha Skankers . In all, 22 sets and over 65 artists (including band members) will play the Barn over the 3 days, with The Persian Doormats closing the festival on the Sunday. International DJs Lee John heading Friday night and Bushwacka on the Saturday.
There is no Dark Horse festival this year, which is a shame, however the Bass Bus Party Bus run by Christian Clague will be at Full Moon instead. An Alternative Music Tent run by Andrew Otten , a Secret Forest Music area run by Callum Davies from Volume Events and an additional Music Tent will together form the line-up of events.
Scott Bradshaw says, "I have used a lot of current bands and up and coming guys, as I have been out watching all winter, and have been blown away by some of the newer acts."
It will be a real fun weekend for the whole family. Entry for under 13 is £10, under 3 is free. The kid's entertainment and activities include a football tournament in the barn, Switched On with a wagon load of goodies and lots of other things including workshops.
The 3 Day ticket price includes camping. Tickets are selling fast. Early Birds sold out in a day, Tier 1 sold out in a couple of weeks and the organisers are now on Tier 2 which are £122 plus booking fee. A third of the motorhome places have sold already and caravan spaces are very limited (less than 10 at time of print) so best to buy tickets now. There are glamping Tee Pees available (go to the website to book) people can bring their own drinks and there is a fully licensed bar in the Barn run by Wanderbar.
Scott has been working on the Festival since last July. Many will know Scott from when he was a semi–Professional Rally Driver and won titles at International, National and Club level. The highlight, for him, being a works driver for Honda. He still owns and runs DB Autos.
Having lived in Ibiza for five summers, his family stared in a TV show called "Ibiza 2008", after which they organized boat parties before making a film "Ibiza My Way Or The Highway". Scott has also made a documentary with Dario Lionetti about building a Sierra Cosworth and trying to win the Manx Historic Rally which made it to the finals of the IOM FILM Festival.
With a love of Faulty Towers and anything Monty Python (and once had a huge Sex Pistols collection, despite not being a massive Punk Fan) Scott is bringing his style, love of life and huge energy into making this Festival fun for everyone.