We are Saltworks SUP a stand up Paddleboarding business providing activities on Island.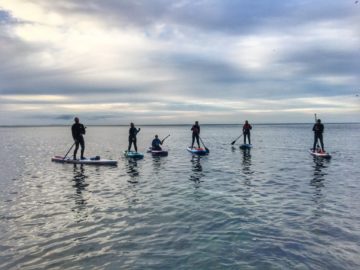 At our core we want to inspire people to get out, appreciate the outdoors, have fun and reconnect with our amazing Island biosphere. The coastline with its rugged rocks,  beautiful sandy bays and abundant marine life is the perfect place for new adventures. Our key aim is to introduce people to one of the fastest growing watersports safely,  and to appreciate the great outdoors and the wonderful variety of places we paddle all over the Isle of Man.
Saltworks SUP provides SUP lessons from our Discover and family fun paddleboarding sessions at sea and on the beautiful Mooragh lake to Beginner and Progression sessions as part of our "learn to" program. We also run the WSA ISUP SMART programme aimed at SUP safety, trip planning and  rescue. Alongside our core sessions we offer SUP Yoga,  sunrise and sunset paddles, SUP Seals Safari adventures and SUP social paddles with our SUP club, all part of our Experience and Explore programmes.
We  are passionate about protecting our environment. We aim to minimise our impact by following leave no trace principles at all of our venues.