Chicken Nuggets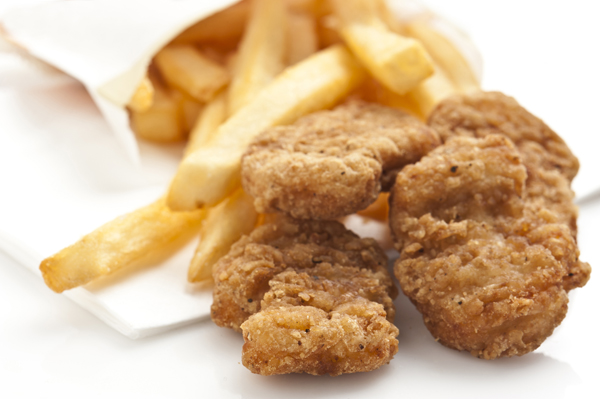 Homemade Fast Food Chicken Nuggets
Dry Mix
1 cup of Flour
½ cup of Corn Starch
1 Tablespoon Garlic powder
1 Tablespoon Onion powder
Salt
Pepper
Wet Mix
2 Eggs
½ cup of Water
¼ cup of Corn Starch
Salt
Pepper
Cooking oil
Firstly, dice your chicken and then blend the chicken in a food processor with salt and pepper.
Now's the fun bit. Shape the nuggets into signature nugget shapes. You can make them any shape you like as long as you keep it nugget size.
Freeze for two hours.
Mix the dry mix together in a bowl, flour, corn flour, onion powder, garlic powder and salt and pepper.
Mix the wet mix together in a separate bowl eggs, water, corn flour and salt and pepper.
Dip the nuggets in the dry mix, then the wet mix, then the dry mix again.
Get some oil in your pan and make sure it's hot before you carefully place in the nuggets. Test with just one first and watch it go crispy. Then start frying those little gems. You may have to just do a few at a time as you don't want them sticking together.
Take them out of the pan and put them on some kitchen paper for a minute. Be careful because they are really hot. The paper will absorb any extra oil.
Dipping Sauce
1/2 Cup Mayonnaise
1/4 Cup Heinze Ketchup
1/2 Teaspoon Garlic Powder
1/4 Teaspoon Worcestershire Sauce
Black Pepper
Squeeze of Lemon Juice


Mix it all together and get dipping.