A Way of Joy-Artreach Studios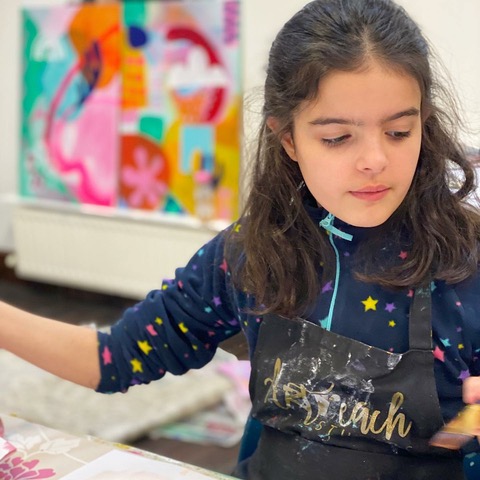 Artreach Studios is run by Colette Gambell and Kate Jerry, with other artists and students helping to provide workshop experiences. We asked them what their inspiration was in creating the Studio and how they felt about the arts on the Island.
Kate Jerry:
In 2012, we initiated a series of art workshops for children and adults together with a full exhibition schedule at The Isle Gallery. We designed each workshop to be in a friendly, informal environment, and provided well organised art instruction. The workshops grew with a little funding provided by the Isle of Man Arts Council for 'Island of Culture' in 2014.
We are both mixed-media artists, having come through the usual route of University Fine Art training. Then through continuous research and training, we have gained experience in a wide variety of techniques and mediums. We have a continual quest for new and exciting process. This is possibly fundamental to what we have in common and why our collaboration works so well.
Visual Art is a practice and education of the visual sense….it is as vast as the ocean, so very difficult to sum up in a few words…… all that we see, wear, live and much more, would have been imagined and created by an artist. Art is a way of expression, a way of joy, a way of making people understand things which can't be done verbally.
There is a huge variety of Art to be found on our small Island. We have, the largest per capita of creative people, anywhere in Britain. This is something to be very proud of. Our artists have a huge variety of different disciplines; painters, textile artists, ceramicists, artist whose main medium is sculpture and more like ourselves that work in mixed media. Styles are very contrasting, and I would say again, a huge variety.

Colette added, 'I've always loved the freedom of working with a variety of media. You could argue that dedicating oneself to a single discipline is how one truly masters a medium, and for some, that may be the right path. I think I can speak for both of us when I say that there is a real wealth of knowledge gained by experimenting and pushing the boundaries of what is traditional with any given medium and allowing the experience of uncovering the intricacies of one to influence and inform another. If we always tread the same path, how will we ever uncover something new? It is this drive for finding the magic in the art making process that keeps our workshop program exciting at its core, there is an excitement in sharing.'
Artreach Studios lead in educational and recreational art workshops for both adults and children. The programs are very much rooted in process. The workshops attract people because they are fun and accessible.
We offer many different creative opportunities, whatever your interest or level of ability. Our focus on experiential opportunities in the arts offers access to learn a variety of different techniques. We have artists attending but also absolute beginners and those in between. Many people come along and repeat a workshop, we also have well equipped studios, so can accommodate a wide range of mediums and techniques.
I think our approach is unique, we have broken down many barriers, to encourage people to come along and give an art experience a go. We provide a relaxed environment and centre on building confidence along with educating people in a technique, making art accessible by anyone. It's important that we ourselves have a wide breadth of knowledge and experience in what we do and it's really important knowing how to respond, to encourage and help develop peoples learning experience.
In response to the first lockdown and beginning of the Covid 19 pandemic, Artreach Studios produced a number of workshops online, that were accessed across the world via Facebook and Zoom. The art webinars reached all corners of the world, from New Zealand to Costa Rica and all countries in between, which was very exciting, its hoped that journey continues, into the future.
We would like to see the visual arts being treated equally with all the other arts (Isle of Man). There are now many initiatives to help people access visual art – which is very important, however for professional artists there is not enough support. The college provide an amazing art course, which takes mainly young, and some mature students through to Foundation level (there is a degree course also) however, we lose most of our talent off Island because beyond this, Artists may as well jump off a cliff, as there is very little for start or mid-career. Despite this, all the arts on the Island have developed. We need to look at ourselves and understand that a professional community of artists (all the arts) has evolved, something to embrace and encourage.
Colette and Kate have started up a ceramic based business together and developed a range of homeware and decorative art pieces over the last few years. They have consistently balanced the art workshops, with their own professional practice. New artworks are made from clay, paper, paint and all other mediums that suit the work. The themes are ever evolving, developed from longstanding interests, and beautiful collections that suit the seasons.
Time Enough asked them what their plans are for 2021:
"Well, we have very big plans but have to keep hush at the moment – but watch this space!"
We can't wait to see what is planned. Check out their fabulous fantasy workshops for children in February Half term.
For more information on events please go to the Time Enough Events Calendar and for more information about Kate and Colette's work and workshops please visit: