Love at First Bite-islecook.im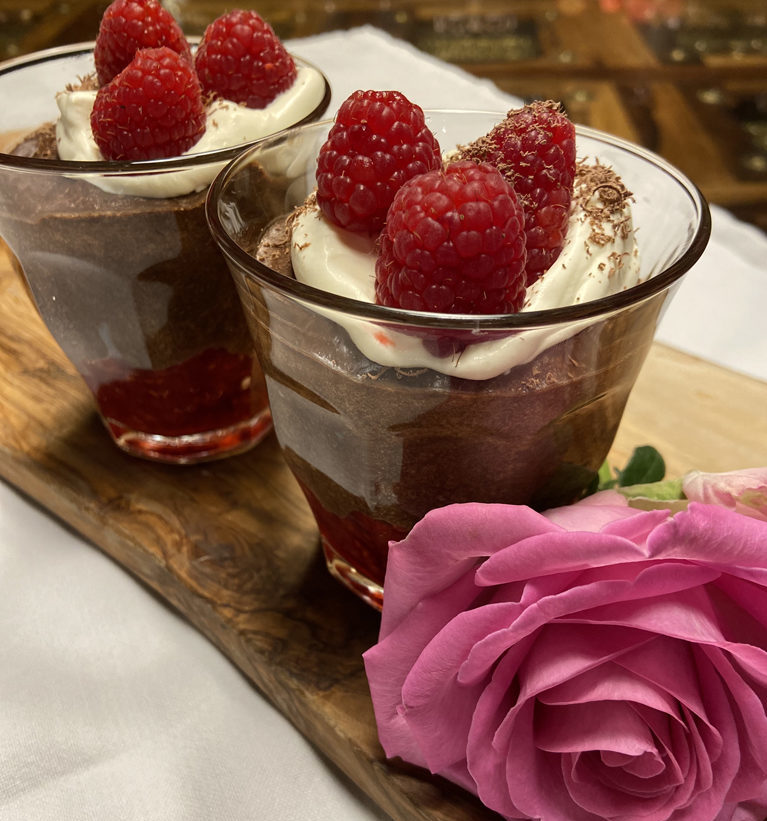 After weeks of post-Christmas blues, lockdown and the cold weather, here at Isle Cook we are ready to be pampered a little, and what better occasion than Valentine's Day? Even if you're not a roses-and-cards person and don't usually venture into the kitchen, everyone can use a little sweetness right now. So here's a simple yet special treat that has become a firm favourite with our families, and with the many guests we have catered for since opening our doors last year, bringing together our years of culinary expertise to offer a range of services from teaching to catering and drop-off meals.

Remember, this can be prepared well ahead of time, so no last-minute panic required!
Rich chocolate mousse with raspberries
Serves 2
2 small eggs, at room temperature
100g dark chocolate
For the raspberries
75g raspberries
1 teaspoon lemon juice
1 tablespoon icing sugar
To serve
Double cream
Extra raspberries
1 teaspoon grated chocolate
Places the raspberries, lemon juice and icing sugar into a small bowl and, with a fork, gently break up the raspberries. You want to see pieces of raspberries, so don't turn it into a purée. Divide the raspberries between 2 ramekins or glasses and set aside.
Break the chocolate into pieces and place into a small bowl, set over (but not in), a pan of water that has just boiled. Allow the chocolate to melt, stirring it occasionally. Remove from the heat and allow to cool for 5 minutes.
Separate the eggs. Place the yolks into the melted chocolate and stir to combine.
In a clean, dry bowl, whisk the egg whites until they are holding their shape and the tops of the egg whites form soft peaks.
Using a metal spoon or spatula, dollop one tablespoon of egg whites into the chocolate mixture and stir well.
Carefully fold the remaining egg whites into the chocolate mixture.
Divide the chocolate mousse between the 2 ramekins, cover and chill for a minimum of 2 hours.
Serve garnished with a few extra raspberries, the grated chocolate and some double cream.
CHEF'S TIPS
Instead of lemon juice with the raspberries, you could use a tablespoon of crème de framboise or brandy.
It is nice to serve this in glasses or clear pots so that you see the lovely layer of raspberries.
When folding in the egg whites, the key is to use a metal spoon and a gentle figure of 8 folding action. This ensures that your mousse remains light as you don't knock out too much air.
As the mousse is made from raw eggs, don't serve it to anyone pregnant.
A little more about us…
Sophie Cope, a caterer with many years of experience on the Island and Kat Osbourn, a cookery teacher, combined forces last year and set up Isle Cook. It's growing fast, and so far we have catered for events of all sizes. We've demonstrated at the IOM Food and Drink Festival, and provided bespoke cookery lessons, canapé parties, catered for a large charity dinner and corporate events as well as drop-off dinners.

You can find out more via our website: www.islecook.im.
Follow us on Instagram @islecook.im and Facebook @IsleCook

If you have a desire to learn to fillet and bake, or an event we could help with, have a look at our website, www.islecook.im, or get in touch with us via email, info@islecook.im