Beetles, Bugs and Beasties Competition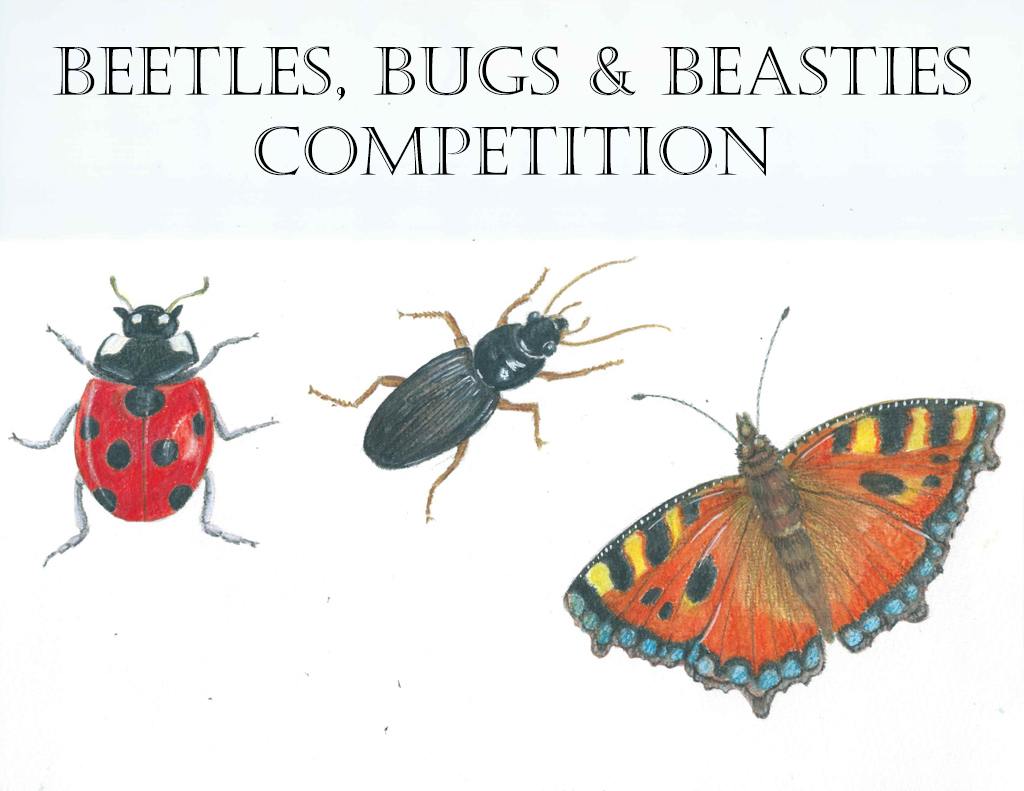 Beetles, Bugs and Beasties designed and judged by local artist Sally Black. This competition is open to Isle of Man residents only. If you live off Island, you can always do it for fun, but sorry, no prizes.
As the days get longer and hopefully warmer, there is a lot to see in the great outdoors. If you have a garden, it is the perfect place to spot insects, birds and other garden creatures. There are over 60 different species of bee found here and at least 12 species of ladybird. Not all "bee looking" insects are bees (or wasps). There are 19 species of butterflies here and Manx Wildlife Trust (MWT) does an ID chart to help identify them.
To enter the competition:
Download Sally's beautiful illustration and colour it in.
Create your own drawings of insects.
Add your Name, Age and Contact details including email.
Scan or photograph both and send them to: competition@timeenough.im
The competition is NOW CLOSED
There are four categories and our wonderful Bee Bundle prizes to be won:
o Adult
o Age 11-15
o Age 6-10
o Age 3-5
The closing date is 4 May 2021. The winners will be announced on the Time Enough Website on 11st May 2021.
Each Category Winner wins one of our Bee Bundle Boxes
Prize Bee Bundle Box
• Sally Black's own Bee Design Tea Towels
• Davison's Honeycomb Ice Cream Voucher
• Bee-co Wax Wrap
• Bee or Insect Keyring
• Seed Bombs for attracting bees and growing wild flowers
• Under 15's- RHS insect sticker book
• 15 or over- Bee Pendent
• Bee Surprises
Runner's Up prizes of Bee Surprises
• Davison's Ice Cream Voucher
• Honey in small Decorative Jar
• Honey Dipper
• Edible paper Bees, Butterflies and Flowers
• Edible Glitter
• Bee Chocolates
• Bee Pencil and Eraser
Full Competition Rules

The judges' decision is final.
The competition is open to anyone of the appropriate age living on the Isle of Man.
More than one entry is permitted.
The entries must be received before the closing date. The closing date is 4th May 2021.
The entries may be sent via email to competition@timeenough.im
The entries must have the full name, age and contact details.
The entries must be the entrants' original work.
The winners will be announced on the 11st May 2021.
Time Enough, may post the winning entries on social media and their own website together with the names of the prize winners.
The normal terms and conditions of the website applies to this competition.
Prizes to be delivered to the winner's addresses.
No cash alternative is available for the prizes.