Not so Stupid.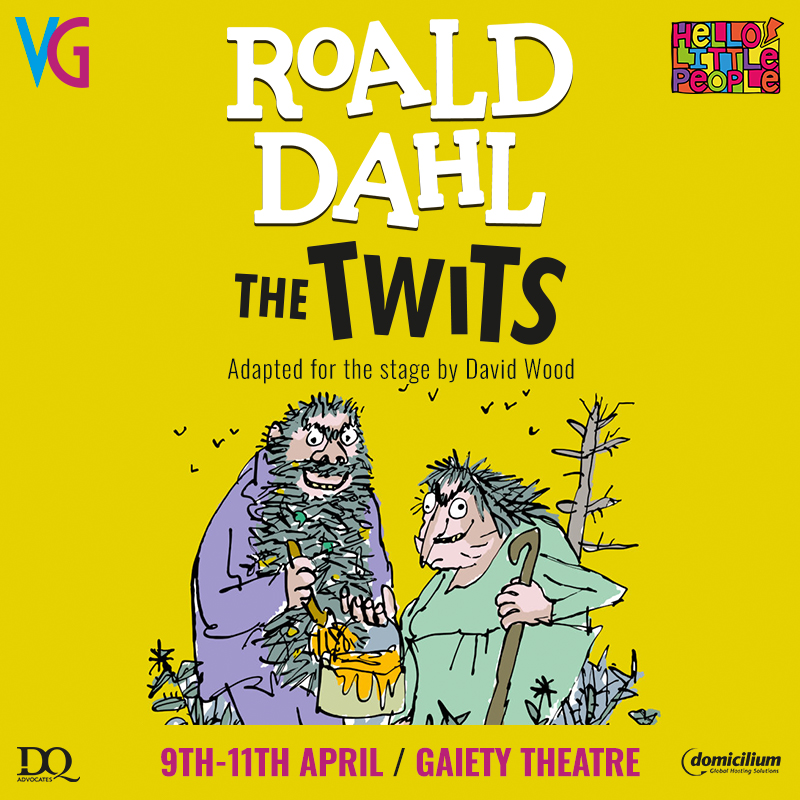 It's finally here. The much awaited "The Twits" which was rescheduled from April.
We talk to the dynamic duo, Michelle and Chloe, the creators of "Hello Little People" about their theatre company and performing for children.
Michelle – I was born on the Island and grew up here. I went to school at Rushen Primary and then Castle Rushen. Growing up on the Island meant I had so many opportunities to be creative and be involved in the Arts. I absolutely loved taking part in competitions and festivals on the Island like the Manx Music Festival and being part of shows at the Gaiety. After leaving school I trained at Royal Conservatoire of Scotland in Musical Theatre and since then have been working as a professional actor. In March 2020 I returned to the Island at the beginning of the pandemic.
Chloe – Born and bred on the Isle of Man indeed. I grew up here completely immersed in creativity and performances, whether that was the Amateur Dramatics, dance classes, school shows, the Manx Music Festival, you name it! I went to Ballakermeen High School where I developed my love for theatre and forged my path to become a professional actor. I left at 18 to train professionally at the London College of Music, where I later got a BA in Musical Theatre. Since graduating, I have worked professionally across a manner of acting jobs, until I returned home last March at the beginning of the Covid-19 pandemic.
Michelle – Children's Theatre has always been a huge love of mine. I love productions that make something out of nothing and allow your imagination to take over. I have always loved to be immersed in action and be transported to another world through the power of live performance.
Chloe- I find that having children as an audience means you get completely honest feedback at all times, which I find thrilling and terrifying!! If they don't find something funny- they won't laugh, if they don't get it – they won't pay attention. This means Children's Theatre is complex, exciting andfulfilling; I love to encourage imagination and play, through theatre.
Chloe – We reconnected having both found ourselves in a unique and extremely similar situation. We were just desperate to do something creative – to get out and perform again, to use our skills and the good fortune that the Isle of Man gave us, to be able to live without restrictions.
Michelle – We bring stories alive through movement, and laughter. Hello Little People creates original theatre for children. By sharing our theatrical adventures we aim to spread as much joy as possible.
Chloe- We want to make our audience laugh, have fun and enjoy themselves. I believe play is so important both for adults and children, and Hello Little People encourages a sense of light hearted fun and a bit of silliness!
Michelle – On the Isle of Man there is a folklore that "the little people" are fairies- they are mischievous and playful and as Sophia Morrison puts it "not fairies who float about with wings". These are red capped fellows that live under the FAIRY BRIDGE.
Michelle – "If you know what you're going to do, what's the point in doing it?!" Picasso. This is a quote I shared with Chloe in our first ever meeting. It is a quote that I continue to find relevant everyday.
Chloe – Go on then, I'll go for an inspirational quote too as I love them. Julia Cameron says in the Artist's Way "what we really want to do is what we are meant to do. When we do what we are meant to do, doors open for us and the work we do feels like play."
Hello Little People is only 6 months old, and in the last 6 months we have performed several productions in the coolest of places.
A BEG ADVENTURE at Castle Rushen
A (spooky) BEG ADVENTURE at The Children's Centre
FREAKY FOLKLORE, an immersive tour around the Manx Museum
JUAN AND THE BEANSTALK at The Nunnery
Next up we are performing by exclusive agreement with the Dahl Estate – THE TWITS at the Gaiety Theatre – this will be a 2 hander again, and we are both really looking forward to the challenge of performing what is written as a 7 person show by just the two of us. Wahey!
Extremely excited to perform again on the Gaiety stage, not only now as a professional actor, but with a professional production company!
We love to perform in different spaces and be inspired by the space around us.
We asked them "who should see your shows and what are the benefits"?
Absolutely everyone! You, your mum, your dad, your kids, your friend Sally, that guy from down the road, your pet gerbil…
The Twits is fun for the whole family: Hello Little People actively creates theatre that is not just engaging for children, but also makes the adults laugh and enjoy themselves too. The show is best suited to children aged 5+, but everyone is welcome. If you are a Roald Dahl lover, or a fan of a large beard and some wormy spaghetti – you should absolutely come and see The Twits!