Winter is Coming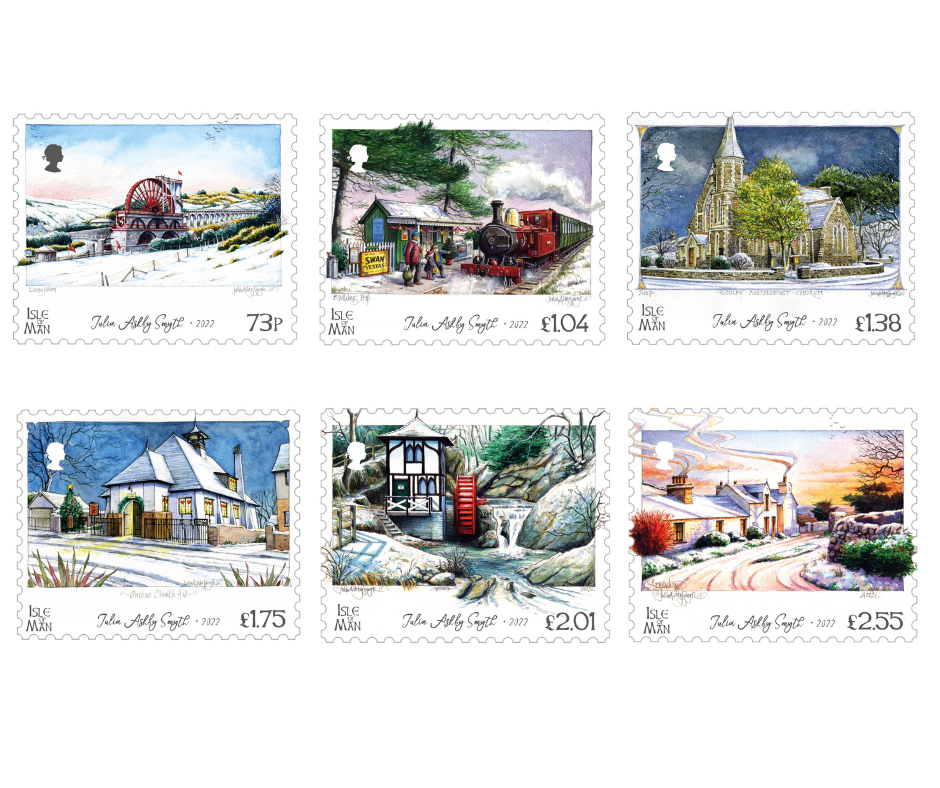 It is not December yet, but for those who need to plan ahead, the Isle of Man Post Office is delighted to release their 2022 Christmas stamp depicting Manx winter scenes, which is now available for purchase. This issue represents the final Isle of Man stamps to receive the royal approval of Her Majesty Queen Elizabeth II and is therefore the last use of her effigy upon a Manx stamp. The Isle of Man Post Office's relationship with Her Majesty Queen Elizabeth II began when the Island gained postal independence on 5th July 1973, since then each stamp released has received the royal approval of Her Majesty, displaying her royal cypher or effigy.
This collection has been beautifully illustrated by local artist Julia Ashby-Smyth, a freelance illustrator whose works can be sighted across the Island.
"I am delighted and honoured that these watercolours have been chosen for the new 'Winter' issue. Inspired by captured moments, most often whilst out walking, bundled up in layers of wool, the cold air nipping at my nose, these scenes bring back many happy memories. The Agneash image, for instance, was painted after a very happy day sledging down snowy slopes. I walked home through an entirely golden pink landscape, even the seagulls were pink. Winter light is exquisite, creating spectacular colours, deeply hued shadows and extraordinarily beautiful skies.
I love detail, much of my work being quite intricate, telling stories layer upon layer, throughout an image; my avid interest in the Manx landscape, its folklore, mythology and symbolism often permeating through to paper." Said Julia about the work.
For Isle of Man Stamps and Coins General Manager, Maxine Cannon "and a great number of colleagues, both past and present, there could have been few jobs where every day of our working life we were mindful of our deep and long lasting association with Queen Elizabeth II. This set of stamps by talented local artist Julia Ashby-Smyth represents the final collection of stamps to receive Her Majesty's approval, making them a piece of our Island's postal history. Julia's seasonal artworks are a beautiful depiction of our Island throughout the winter months and make for the perfect festive issue."
The Locations featured on the stamps
Laxey Wheel
Ballabeg Stop
Sulby Methodist Church
Onchan Church Hall
Groudle
Agneash
Issued on 2nd November 2022, the collection is available as a Stamp Set, Self-Adhesive Set, Sheet Set, Self-Adhesive Sheet Set, Presentation Pack, First Day Cover, Self-Adhesive First Day Cover and a limited edition special cover in honour of the Her Majesty Queen Elizabeth II. Visit iompost.com/ManxWinter to find detailed information about each product. All the products are available for purchase with free delivery across the world and can be placed through their website, by postal order, or telephone (+44 1624 698430).
Last dates for Christmas Post:
HM Forces Mail – British Forces Post Office (BFPO)
Friday 25th November
Airmail to Operational BFPOs
Friday 2nd December
Airmail to Static BFPOs
World Destinations including parts of Europe
Wednesday 30th November
Australia and New Zealand
China (People's Republic)
Thursday 1st December
All remaining Caribbean destinations
Tuesday 6th December
Africa, Canada, Central and South America, Asia (except China, People's Republic), Far and Middle East, USA
Cyprus and Malta, Greece, Eastern Europe, Finland, Italy, Poland, Sweden, Turkey
Other European Destinations
Friday 9th December
Austria, Denmark, Germany, Iceland, Ireland, Netherlands, Norway, Portugal, Slovakia, Spain, Switzerland
Belgium, France, Luxembourg
Isle of Man, UK and Channel Islands
Tuesday 20th December
Letters, Parcels and Parcelforce express48 to UK
Wednesday 21st December
On-Island Letters and Parcels Parcelforce express24 to UK
Thursday 22nd December
On Island and UK Special Delivery